Burr Oak Stables
Horseback Riding Lessons
for all ages and levels

Byron, Georgia

(478) 338-0448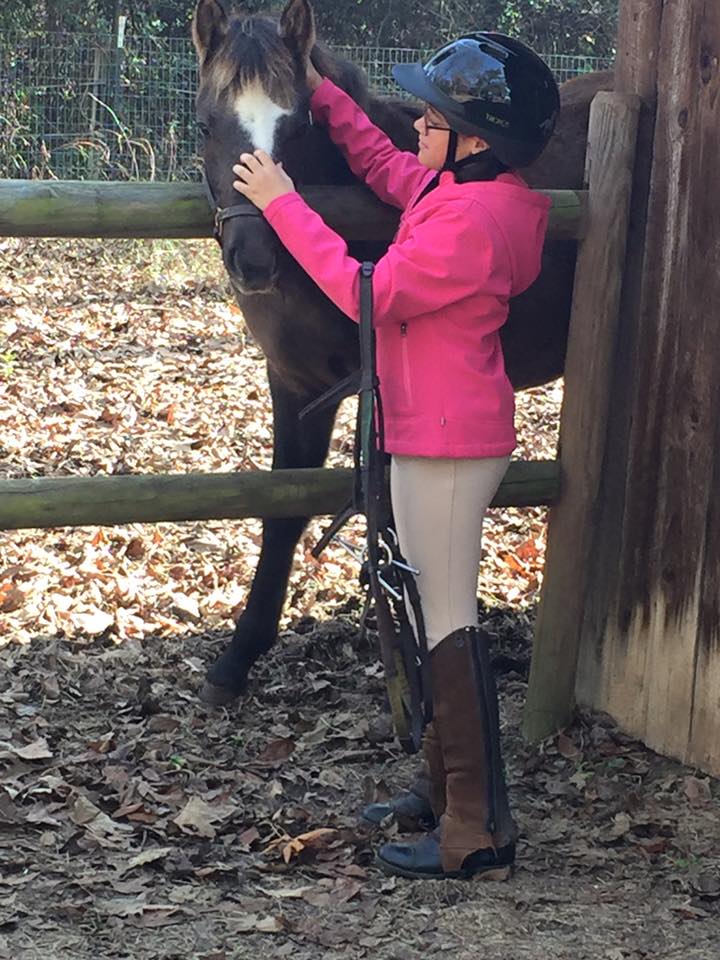 INTRODUCTORY LESSONS FOR BEGINNING RIDERS
We now offer an introductory "pony club" type lesson on Saturdays for ages 4 through adult for $30 per person for children and youth and $40 for adults. Each beginner rider may take up to 4 lessons at this reduced rate. The emphasis is on safely handling horses and ponies and an introduction to basic riding skills. Each rider will have a mounted 30 minute lesson on a leadline pony or horse.Pony club lessons are held in the barn, a shaded area or a round pen. Payment is expected before the lesson begins. Helmets are provided.

REGULAR LESSONS - Beginner through Advanced

Structured progressive weekly or twice weekly riding lessons in balanced seat, hunt seat equitation and dressage are offered for ages 7 through adult. Weekly lessons are 60 minutes long. Prices are: $140/month for beginner walk-trot lessons held in a round pen or on a lunge line, $160/month for intermediate riders who will ride independently at the walk, trot and canter for approximately 50 minutes, and $180/month for advanced lessons focused on hunt seat equitation or dressage. Age appropriate horse care, horsemanship or riding theory are part of all lessons. Advanced riders will be expected to be able to tack-up and untack independently, should arrive at least 30 minutes before their lesson time and will ride for approximately 60 minutes. Additional lessons or services available upon request.

All Burr Oak riders are encouraged to cross-train through participation in other sports or physical activities between riding lessons to improve their fitness and to get the most out of their riding time. Of course practicing riding every day is the best way to become an expert rider.
Policies
Closed toe shoes or boots with a low heel are required. Riding helmets are required for all riders and are provided. Ask us about helmets and boots when you schedule your first lesson. Riders with long hair should have their hair in a pony tail or braids.

All monthly lesson fees are due on the first day of the month. Missed lessons must be made up within 10 days before or after the missed lesson. Lessons will typically not be cancelled due to weather. An unmounted horsemanship lesson in the barn will replace the mounted lesson on rainy days. Riders are encouraged to dress in several layers during cold weather and to bring water bottles during warm weather.
Children under the age of 8 who eventually want to take structured riding lessons may also benefit from swimming, biking, gymnastics, martial arts, yoga or dance lessons to develop concentration, strength, balance, posture and coordination.